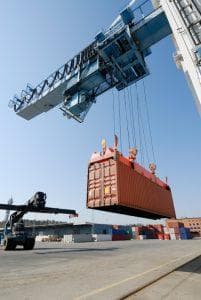 Jacksonville, FL
Do you need to ship freight to or from the Jacksonville, Florida area? You want to know about Savannah Port Services and our direct freight consulting services.
Save money in the process of transporting freight by using the power of digital automation. Today, the availability of sophisticated logistics information enables even small or medium sized shippers to access advanced transportation technologies quickly and easily. We can help you accomplish that goal of bringing efficiency to the movement of your goods from one place to another.
Our Company
We function as a third party logistics center based in Savannah, Georgia. Our job is to help businesses of all sizes save money and increase the quality of all aspects of freight shipping. Our areas of specialization include not only shipping by sea, but trucking and warehousing as well.
We furnish extensive port services along the East Coast, enabling our clients to obtain the advantages of large scale shipping while retaining all the benefits of customized, individual service. Our services especially benefit customers in these Southeastern cities:
Ship Your Freight Cost Effectively
Perhaps you need to ship freight into Jacksonville on a regular basis, yet your company cannot yet afford to establish dependable warehousing or regular dedicated trucking routes with full-time drivers. Using our services gives you some distinct shipping and freight transportation advantages in these areas. We can supply you with manageable warehousing and movement to almost anywhere a ship, truck or railway car can go.
We offer clients the benefits of a high tech, specialized logistical network with real time analytical capabilities. Let us help you find the fastest, most financially reasonable way to ship freight through Jacksonville to anywhere.
A Definition of Direct Freight
We supply direct freight shipping services to our customers. This means that we'll help match your freight requirements to an available means of transport, enabling you to take full advantage of the economies of scale. Your freight will reach the intended destinations without excessive delays, yet you'll enjoy an opportunity to obtain highly competitive shipping rates.
Transforming the Shipping Industry
Today, the complex freight transportation marketplace provides some excellent options for customers. For instance, just consider the situation faced by a small manufacturer who needs to send a shipment from Jacksonville to Savannah, but the quantity of freight fills only a portion of the truck.
Formerly the shipper would likely have paid a significant premium for sending a partially loaded truck into the stream of commerce. Many smaller companies in this situation encountered shipping delays. They sometimes kept customers on back order status until additional orders from retailers in the Savannah area enabled them to ship more cost-effectively. Or perhaps the firm chose instead to pass the high expenses of shipping along to its customers, resulting in much steeper market prices for the end consumers. Small firms in these situations endured price inequities simply because of their limited shipping and transportation capabilities.
Today, advances in logistics technology have leveled the playing field. Now, your company can depend upon us to help you transport your items using our warehousing facilities and our complex network of maritime and land freight shipping resources. We'll work hard to help you save money by combining small shipments into LTL (less than truckload) freight shipments using advanced logistical databases. Our high tech capabilities enable you to send packages to and from the Jacksonville, Florida area seamlessly.
Convenient, Fast Shipping
Today's consumers demand quick and accurate shipping. Manufacturers want efficient supply chains of raw materials and distribution of products to wholesalers. Contact us today to arrange for our Direct Freight services. We'll help keep your company's shipping rates competitive!