Balitmore, MD
With two free trade deals ratified in the last decade, and another on the horizon, businesses will find more open markets around the globe. The flip side of this opportunity is that those same enterprises will be confronted with more competition. The stakes have gone up in the global economy, making the logistics of moving goods even more complicated. Those entrusted with the storage, trucking and forwarding of freight should be well versed in the process and have specific knowledge of the procedures relative to each major port. Among the most important U.S. ports, the Port of Baltimore provides unique conditions for shipping and receiving.
Port of Baltimore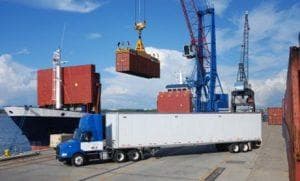 The Port of Baltimore sits along the Patapsco River in Baltimore, Maryland. Established by the Maryland Colonial Assembly in 1706, the Port of Baltimore's original purpose was to facilitate tobacco trade with Great Britain. Citizens began fortifying the port in 1776 as a defense against British attacks. Perhaps its most famous moment came in 1814, when the assault on Fort McHenry inspired the American national anthem. The 19th century saw the port meet the B&O Railroad; inauguration of coffee trading with South America; and the establishment of industries like shipbuilding and copper smelting.
Recent estimates show total imports and exports at the Port of Baltimore average about 36 million tons annually, hovering around 54 billion dollars worth of direct freight. From tobacco to coffee to raw materials, it's notable that the majority of Mercedes Benz imports into the US are now rolled off in Baltimore.
Warehousing
Those familiar with international trade and direct freight issues know that merchandise and commodities in bulk are subject to negotiation, agreement and legal review before shipment. Where and how to store the cargo in the meantime are crucial factors in the condition and integrity of the freight. Serving as a middle point between product sellers and buyers, the optimal warehouse should be populated by an expert permanent staff or a third-party agency that regularly manages large volumes. Ideally, the contents of the warehouse are monitored by electronic information systems that can easily track incoming and outgoing shipments. In addition, a warehouse should be strategically located for easy access to the port; it should be clean and pest free; and the contents should be secure against theft and vandalism.
Trucking
Competent logistics specialists understand that the weight and dimensions of shipments can place a major burden on their clients' budgets. One thrifty option in trucking is LTL, i.e. less than truckload shipping. Like carpooling in a sense, LTL spreads the cost around multiple companies whose freight may only assume a portion of available truck space. Though the truck makes more stops, this inexpensive method of conveyance is attractive for small businesses that watch the bottom line carefully.
Although pricier than LTL shipping, full truckload (FTL) shipping adds speed and efficiency to the equation. Exporters with 10 or more pallets to ship routinely select FTL, as do those whose contents may be both fragile and valuable. There are no stops until the goods reach their destination with FTL.
Direct Freight Forwarding
Port of Baltimore logistics can be complicated and tedious. Fortunately there is an entire industry dedicated to complex tedium, Freight forwarders arrange shipments for businesses from loading dock to loading dock. Working with ground, ocean and air transport providers, a freight forwarder acts as a travel agent for shipments, getting them from point to point and arranging warehouse accommodations when needed. This saves both money and labor for shippers. It saves the headaches, too. Balancing price and efficiency, a freight forwarder is an asset for regular bulk shippers.