Charleston Port Services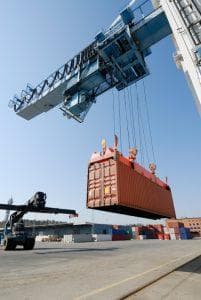 The transportation and logistics industry is currently undergoing rapid changes. Rising customer expectations, new technology, and new business models are disrupting the logistics sector, bringing both opportunities and challenges for businesses worldwide.
In recent years, customer expectations have increased greatly. US customers expect faster delivery times and more flexible shipping options at a low or no delivery cost. A fast and efficient supply chain is essential for businesses to face this new market challenge and remain competitive.
At the same time, new technology is creating new opportunities in transportation and logistics. The development of software technology, robotics, and AI, is already changing how companies store and deliver goods and will continue to do so in the coming decades.
At Charleston Port Services, we can help your businesses stay competitive in these changing times. As a leading logistics and port company in Charleston, South Carolina, we offer a wide range of storage and transportation services to businesses across the US. Our highly efficient logistics system can help you deliver your products in a fast, reliable, and secure way.
What We Do
At Savannah Port Services, we are committed to providing efficient and cost-effective storage and transportation services to our customers. We operate with a wide range of port locations on the East, West, and Gulf Coast. Our wide network of ports allows us to find the fastest shipping routes at an affordable price. Some of our top port locations are Savannah GA, Baltimore MD, New Orleans LA, Jacksonville FL, and the Port of Charleston SC.
If you are looking for port services in Charleston, we can help you with domestic and international shipping. We are a one-stop solution for companies looking for a company that offers comprehensive and cost-effective transportation services. Here are the different ways we can help you:
Logistic and Warehousing Services

We have embraced the technological disruptions as a business, quickly adapting our warehouses with smart and automated storage systems. Our logistics and warehousing services are highly efficient facilities with automated storage and retrieval systems, conveyor belts, and sophisticated storage software.

In addition to warehousing services, we offer a wide range of shipping-related services such as transloading, handling hazardous materials and explosives, preparing out of gauge cargo, and organizing breakbulk shipping. Whatever type of product you are shipping, we can help you organize the packages and containers the proper way to avoid any costly legal problems.

Freight Forwarding Services

We work with over 60 freight forwarders, allowing us to find the best deals for shipping goods domestically and overseas. We use our wide network of connections to put you in contact with the best freight forwarder for your business.

As a business, it's difficult to find low shipping rates if you don't ship large quantities of goods often. Instead of contacting a carrier directly, a freight forwarding service negotiates with carriers for you and finds the best shipping deals. Since freight forwarders help businesses ship a large quantity of cargo, they have the necessary leverage to obtain excellent rates from carriers.

Trucking Services

We have over 1,500 truckers waiting to carry your products from our warehouses. We offer various land transportation options, including Full Truckload (FTL) and Less-than-Truckload (LTL). With a combination of long-distance intermodal shipping and short-distance drayage services, our trucking services can deliver your products quickly from our warehouses to the final destination.
Why Work With Us?
At Savannah Port Services, we are an experienced team of logistics specialists dedicated to improving our clients' shipping operations. We have developed our business to remain competitive in today's fast-paced economy. With high-quality tracking software and strong partnerships with truck companies and freight forwarders, we can offer affordable shipping that's both fast and safe.
Freight Tracking

Our warehouses are equipped with up-to-date data collection software that tracks the arrival and departure of products and their location within our facilities. But we also track goods beyond the walls of our warehouses. We offer tracking from pickup to final destinations on the East, West, and Gulf Coast.

For this purpose, we work with partners that provide us with accurate real-time data for both domestic and international shipments. With this information, we provide our customers reliable information about the location of their cargo, the delivery time, as well as final destination costs.

Sending expensive equipment overseas or across the US can be a stressful experience. Let us help you ship products safely and efficiently, providing you with the peace of mind to focus on other areas of your business.

Experience With Port-to-Port Regulations

Domestic and international port regulations are constantly changing, which can cause delays in shipping and other potential problems. We stay knowledgeable of the current changes regarding import and export laws and customs regulations, and tariffs. Also, we take care of all the necessary paperwork to provide you with a flawless shipping experience.

Efficient and Reliable Partnerships

An essential part of our business strategy is looking for the most reliable freight transportation partners. We have a wide network of connections in the land, sea, and air transportation sectors. We can find the fastest, safest, and most affordable route for your cargo by combining our port locations across the US with our many freight forwarding and truck vending partners.
Charleston Port Services is the Logistics Company You Need
With years of experience in the logistics industry, we can help you with storage and shipping solutions that can increase your businesses' profitability and customer satisfaction.
While there are great opportunities in the transportation sector, the logistics industry is changing so quickly that it requires the experience and skills of a team of experts to find the best possible systems and solutions. Contact us for a free quote if you are looking for warehousing, freight forwarding, or trucking services at the Port of Charleston.